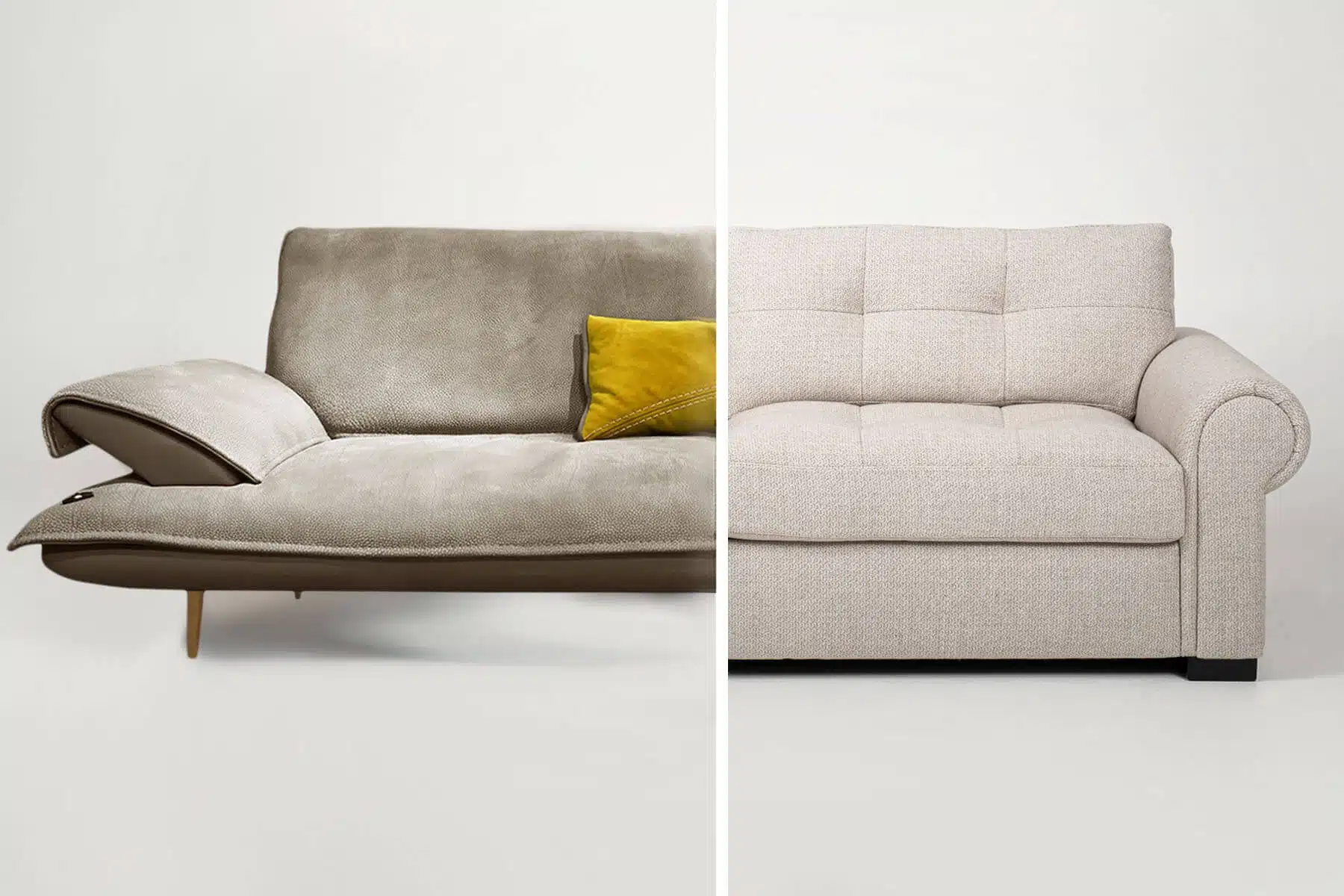 The journey to finding the perfect sofa can include a lot of questions. One that comes up time and time again is whether you should use the term couch or sofa. You might hear a mother tell her kids to get off a couch. Another time that woman could call that same piece a sofa. It is a tricky distinction that not everyone understands.
Many associate sofas with formal living areas and couches with casual spaces. In the end, few people truly know the correct terminology for the couch and sofa. Should you say that you are sitting on a couch? Does a sofa look different than a couch? Will interior designers sneer at you if you say couch instead of sofa? Even if you say the right one, do you know why you say couch or sofa?
Answering these questions will help you feel comfortable looking for a new couch or sofa. The interior design experts at San Francisco Design outlined each item's origins and the subtle differences between the two in the breakdown below.
Let's look at what you should know about couches vs. sofas.
The Origin of the Sofa
The term 'sofa' dates back to 2000 BC in Egypt and derives from the Arabic term 'suffah,' meaning wooden bench covered in cushions and blankets. Looking back at the original renderings of sofas will further clarify the definition.
In those days, sofas were an exclusive luxury for the upper class. Then the Romans started enjoying sofas in the form of chaise loungers. As time passed and the Industrial Revolution brought forth updated styles, designers started thinking of ways to appeal to the masses. Affordability and comfort took center stage, with ornate designs thrown to the wayside.
Modern-day sofas now incorporate comfortable fabrics and cheaper textiles for an updated design. A few designers that popularized the production of modern sofas include Le Corbusier and Charles Eames. Their sofas looked beautiful without sacrificing function.
Today, sofa manufacturers are finding new ways of improving upon past designs. Some changes that have hit the industry lately include additional fabrics, improved leather tanning techniques, and advanced foam engineering.
The Origin of the Word 'Couch'
The term 'couch' stems from the French word 'coucher,' meaning to lie down. The history of this furniture item is the same as the sofa. The terms are interchangeable. However, most in the interior design industry rarely use the term couch but opt for a sofa.
So, are you wrong if you use the word 'couch?' No.
A couch is something you lounge on, let your kids play on, and let your dog use it from time to time. It is a big, fluffy furniture item found in man caves and laid-back television rooms.
What Is The Difference Between a Couch and a Sofa?
The difference between couches and sofas comes down to style and function. You can associate sofas with formal living spaces and hosting opportunities. Sofas sit a few people rather than an entire family or group, and you probably wouldn't use them daily.
Couches are the opposite. You use your couch often for sleeping, watching television, and spending time with your loved ones. They can come in various sizes and styles, but it probably seats more than four people.
At the end of the day, it doesn't matter if you use the word couch or sofa. Our designers advise that you try not to stress about it. If someone corrects you, take it with a grain of salt. The minuscule differences between the two might make a difference but be confident in whatever word you choose.
Browse Couch and Sofa Collections at San Francisco Design
San Francisco Design offers a selection of modern and contemporary sofas for your living, dining, and bedroom areas. Our contemporary sofas and couches look great without sacrificing any comfort. Our online store and Utah showrooms are stocked with living room furnishings in various materials, including cloth and leather.
You can even receive advice from our interior design specialists to help you find the perfect living room furniture that brings your space to life. Browse our online store to see our hand-selected items in stock and ready to ship. You can also visit our Salt Lake City and Park City furniture stores to see what else we have.
Come in today and outfit your living room with the latest modern couches and contemporary sofas.