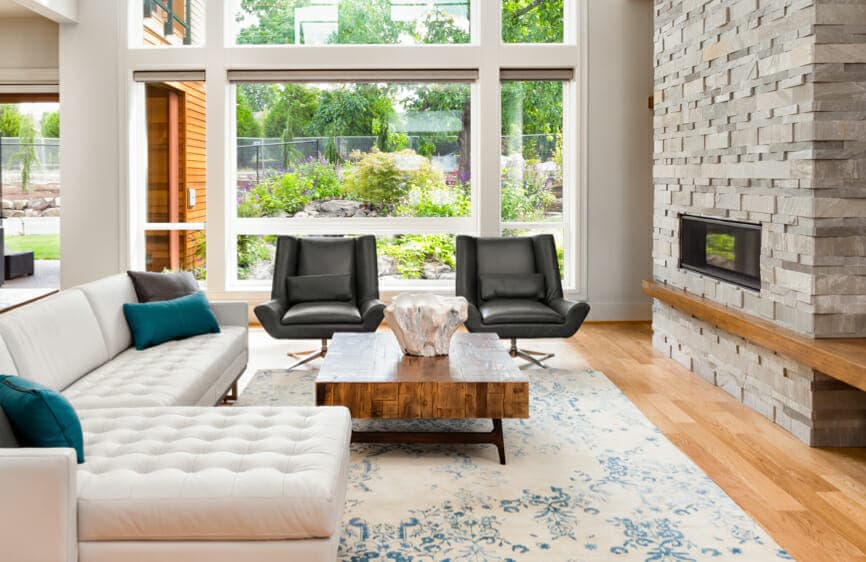 During this year, many people realized that their home lacked the interior styling needed to make working from home comfortable. Perhaps you even notice a few things you could change to make your home a more attractive place to stay during times like these. If you feel inspired to give your home an interior design makeover, e-design is the perfect place to start.
E-design offers homeowners all the tools needed to professionally design their space using an easy-to-follow virtual communication system. Working with an e-design service, you can receive a fully loaded design complete with virtual renderings of your home or any rooms you choose to re-design.
This simplified system eliminates the need for in-person meetings and endless back-and-forth discussions. You can upload information on your home's current layout, along with notes of desired changes and any necessary direction to help your e-designer complete the finished product. It is an affordable and convenient process that many homeowners prefer using, especially in the current environment.
Here is what you should know about e-design before you get started.
What is e-design?
E-design is a popular alternative to the traditional design process. This system uses virtual communication rather than in-person meetings to create a design. These methods may include but aren't limited to email, direct messaging, and more. 
It also eliminates any location restrictions by extending services to clients in any area of the world. E-design is also available for all project types, including residential and commercial. Overall, e-design makes interior design available to more clients, regardless of their budget or their location.
What are the advantages of e-design?
Before e-design, interior designers depended on meeting clients in-person over several months to create the final design renderings of any given space. This traditional design process included working together to understand your needs, style preferences, and lifestyle choices, taking measurements, snapping pictures, and then moving forward with the design renderings.
Even after finishing the proposed plan, it can still take time to go back and forth with a client until agreeing on the final design. The interior designer will then install the scheme, purchase items, and hire any necessary subcontract work. 
While there are significant benefits to using a traditional interior design service, e-design eliminates much of the back-and-forth and scheduling that can prolong the traditional design process. In the end, the efficiency of the process ultimately reduces the amount of time it takes to complete a project, which also reduces the final project cost. In fact, San Francisco Design offers a flat rate for all our e-design services so that you won't have any surprise costs to pay for at the end of the project.
E-design also offers clients an in-depth view of their styled space thanks to the virtual tour feature. You can follow these renderings to your liking, choosing what to install, and when to do it. You can even work with your e-designer to redesign any proposed design elements before changing your real-life space.
All in all, the benefits of using e-design services include:
Out-of-state services

Quick turnaround

Affordable cost

Design flexibility
What is the e-design process?
While the interior designers at San Francisco Design are based in Utah, our e-design services increase our service range to anybody from anywhere. Whether you live in a different area of Utah or a different end of the country, you can utilize our e-designers professional interior design services to update your space without ever leaving your couch.
Our simplified e-design process makes it easier than ever to create a beautifully designed home. The process is as follows:
1. Online Consultation
You will begin by making a virtual walk-through of your home using videos, photographs, and a completed questionnaire. The questionnaire includes providing personal details, such as style preferences, family lifestyle, functions of a space, and more.
2. Measurements
Along with a detailed questionnaire, you will also need to compile all the measurements of your space. Your interior designer will outline all necessary measurements and directions on how to complete this step correctly.
3. Design
Once you provide all the necessary information, your interior designer will begin designing your renderings. The design will fit within all discussed parameters, including the determined budget. It will also outline every item you need, where to find it, along with pictures of furnishings and accessories.
4. Deliverables
Your interior designer will send a completed design. This detailed design includes:  
Rendered floor plans drawn to scale

A design board collage for each room with furniture, accessory selections, and a color story

A design statement or explanation

Samples of fabrics and finishes

A budget of any items from San Francisco Design

A purchasing timeline
You can expect every detail of the rendered design to be thought-out, down to the tiniest detail. You can even work with your designer to edit any choices that don't fit your taste. Together, your e-designer will create a completed look that matches your vision perfectly.
How to know if you should hire a local designer or an e-designer?
E-designers offer all the capabilities of a local designer, but on a smaller scale. Unlike local interior designers who focus on clients with larger projects, e-designers offer small budget-friendly packages. Along with affordability, here are a couple of factors to consider as you determine whether traditional interior design or e-design is the right choice for your project. 
1. Timeframe
Local designers use a start to finish process that usually includes custom-made decor elements and longer timeframes. E-designers reduce the time it would take to install a traditional design by relying on virtual communication and sourcing retail furnishings that are ready for immediate delivery.
2. Cost
The price of custom interior design is generally higher than e-design services since these designers manage every step of the process, including taking measurements, hiring contractors, supervising installation, and creating renderings. E-design is by far the more affordable option when comparing the two.
E-Design Services at San Francisco Design
San Francisco Design offers full-service e-design services to clients worldwide, including those in Utah and the Intermountain West. Homeowners and businesses trust our e-designers' experienced eyes and modern style preferences, whether they live nearby or can't step inside our showroom.
Work with one of our talented e-designers using our fully equipped online interior design program to create your dream home. It is a convenient and easy option for any client, including those not in a position for full-service design services.
Contact us to learn more about our e-design program.
You can also visit our showroom in Salt Lake City and our Park City furniture store.