Contemporary interior design can be hard to nail down because it draws on many different design periods, including modernism, Art Deco, and minimalism. Modern styles can even draw on the industrial, retro, and bohemian periods. The style combines features from these design styles without significantly focusing on one type. This article explores the contemporary home style, what that means, what elements to look for, and specific guidance and suggestions for each room in your home.
The simpler the idea, the harder it can be to define. In the same way, it may be tricky to understand the subtle nuances of contemporary design, and then execute them in your personal space. Understanding what is contemporary style can inspire those of you looking to refresh your space and wanting to know how to decorate in a contemporary home style.
What is Contemporary Design?
"Contemporary" is defined as belonging to or occurring in the present. Thus, contemporary styles are always in fashion because they belong to the here and now. Contemporary styles follow what is popular and trending at the moment while also incorporating timeless and classic techniques that have an ageless feel to them. Contemporary design highlights:
Neutral shades
Form: clean lines, both curved and straight
Minimal and unadorned yet thoughtful pieces
Natural textures
Lighting
It is okay not to have a complete grasp of contemporary design because this design style is often subtly changing. Below we discuss these highlights to provide a broader understanding of contemporary design style.
Hallmarks of Contemporary Design
Contemporary Design Style and Modern Color Theory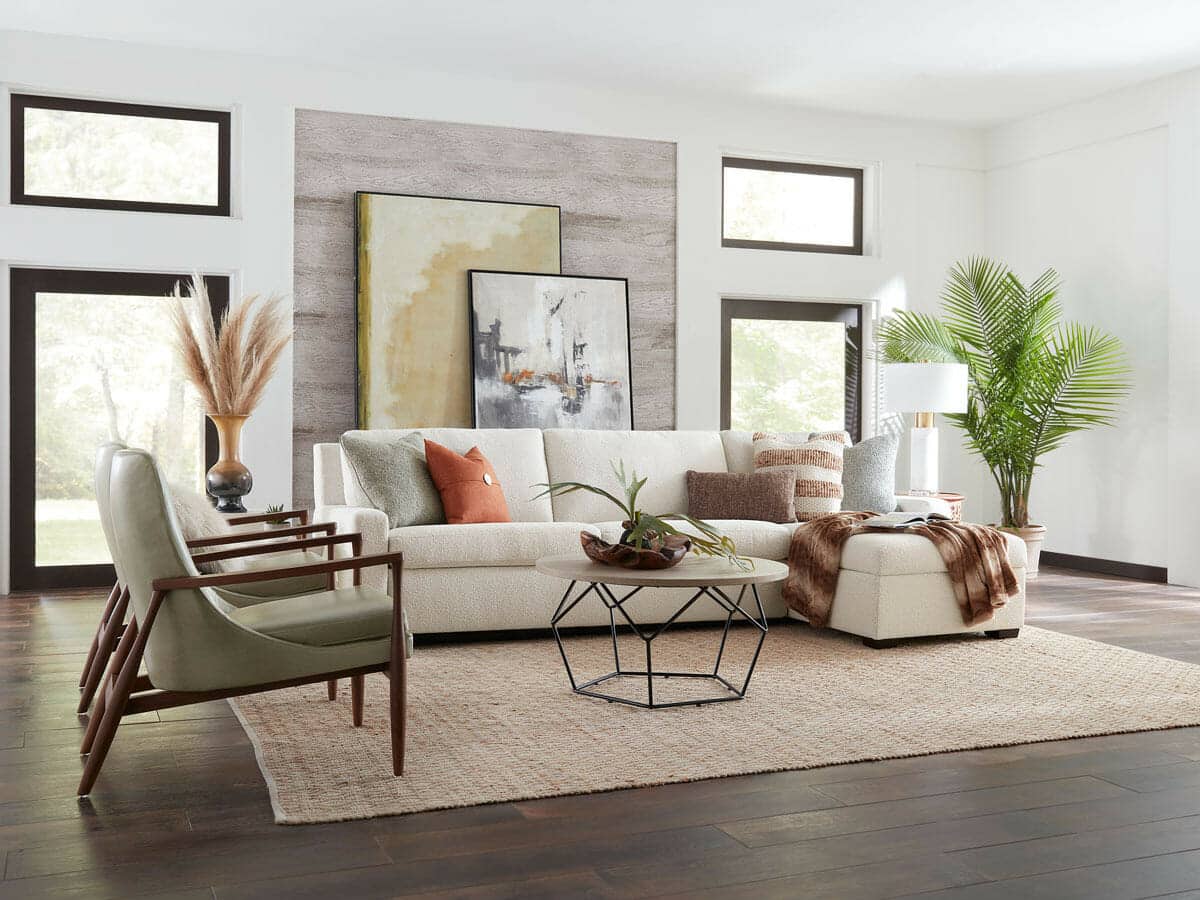 Form and Space
Form in design commonly refers to shape. Contemporary design focuses on form just as much as function and features clean, sleek lines and organic silhouettes. Where modern design focuses exclusively on clean, straight lines, contemporary design mixes both straight and elegantly curved lines throughout the room, such as in architectural elements, furniture, lighting, and decor. Strong visible lines are present in contemporary design concepts and structural elements are highlighted.
In addition to form, space plays a vital role in contemporary style. In a contemporary room, less is more, and space is embraced throughout the room. Pay attention to the high ceilings, bare windows, and reserved wall decor in the photos of contemporary style home interiors throughout the article.
What is Contemporary Furniture Style and What Does It Incorporate?
Contemporary-style furniture follows tenets of contemporary design. Upholstered furnishings are generally in reserved or muted color schemes and are solid hues, like beige, white, gray, or soft blue. Contemporary decorators use natural materials, unadorned surfaces, and neutral, textured, natural fabrics such as:
Wool
Cotton
Linen
Silk
Jute
Contemporary Furniture pieces make a statement. They are conversation starters, unique and tasteful, while remaining reserved and organic in their form. Furnishings have clean lines or rounded edges. They are sturdy and robust and avoid frilly adornments, such as tassels, trim, fringe, or ruffles. For more inspiration, browse San Francisco Design's modern furniture and home furnishings catalog.
Minimal yet Thoughtful: Contemporary Home Decor Style
Contemporary design is thoughtfully understated. Decor and art are used sparingly, but the pieces that are used make a statement, are meaningful, and catch the eye. Patterns are reserved for throws, pillows, and rugs for a bit of pop. Don't overdo it, and remember that in the contemporary design world, less is more.
Contemporary Style Lighting
Lighting is the final important element in contemporary style. Natural and layered lighting is very important in a contemporary style home interior, and thus windows are often left uncovered or with minimal covering. Let in as much natural light as possible, then use ambient lighting, accent lighting, and task lighting to fill in the rest of the room and highlight specific areas or pieces.
Light fixtures should follow contemporary style and be largely unadorned yet shapely fixtures that work well with the clean and curving lines around the room. Metal fixtures in brass, chrome, and iron are a popular choice for contemporary home decor.
Three Reasons Contemporary Style is Worth Investing In
There are many reasons that contemporary style is worth investing in, but three stand out:
First, contemporary style will last for years. Contemporary style is much more timeless than trendy, and it is understated enough that it will not easily go out of style.
Second, contemporary design creates an oasis of calm in a chaotic world. Contemporary style is relaxing. The color palette is soothing and the room is spacious and uncluttered, making your home a sanctuary for you and your loved ones.
Third, contemporary design is easily adaptable. It works well with many architectural styles and rooms, and can be easily applied in an older home or a new build.
San Francisco design offers complete interior decorating services to turn your contemporary design dream into reality for your entire home or room by room.
Introducing Contemporary Design Into Your Home: Room by Room
San Francisco Design focuses primarily on contemporary furniture styles. Each of our unique pieces meshes seamlessly into any contemporary home. If you are decorating a contemporary home, take some inspiration from the examples listed in this article or discover more to love in our online store.
If you want to see our beautiful furniture pieces in person, stop by one of our locations in Salt Lake City or Park City. Our talented team of designers is ready to help pick the perfect piece of furniture for your contemporary design at each location.
When you buy furniture from San Francisco Design, you know you are purchasing an incredibly well-made and unique item of furniture. You can customize the fabric and color of many of our pieces to fit into your space. With each furniture purchase, you will receive a free design consultation. We also offer full-service design consultation if you want to start with a fresh and complete interior design plan.
If you don't want to leave your living room but still crave an entirely new design, check out our e-design feature. This process allows you to design an interior space entirely online. It's perfect for those who are not in Utah but would still like to utilize our design services. At San Francisco Design, we help you with all your interior design needs. Contact us today to get started.